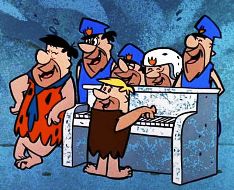 Happy happy happy happy happy happy Anniversary!

MATT BENTLE: bass guitar
(2008 – present)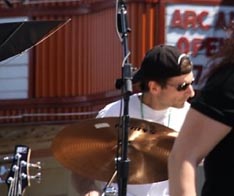 MICHAEL LANDINO: drums and percussion (2001 – present)

GARY MAXWELL: vocals and delusions of grandeur
(2001 – present)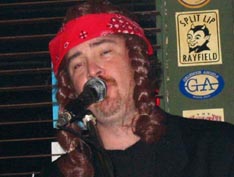 JON SENDERLING: guitar, keys, vocals, and Willie wig
(2001 – 2007)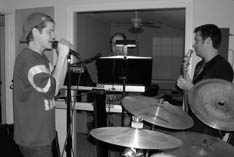 Sweatin' in the attic, also known
as "rehearsal"

"Imagine There's No Sooners . . .
It's Easy If You Try . . . "
[10.08.2004]
"I Can't Hold Back"
[04.30.2004]

Damien: A Good Omen II
[03.26.2004]

"Love Stinks "
[02.14.2004]

"If I Never Knew Your Namik"
[01.17.2004]

Diamondbag Meets the Wolfman
[01.09.2004]

"Dead Men Don't Wear Plaid"
[11.07.2003]

Friday Night Arrives Without a Suitcase
[10.24.2003]

"Speak To Me, Dada!"
[08.15.2003]

"Hey Man, Is That Freedom Rock?"
[07.05.2003]

"We Were On a Break!"
[06.14.2003]

"Sphere of Imagination"
[04.22.2003]

Geaux Horns!
[03.28.2003]

"The Friends of Mr. Byro — Byro — Byro!!"
[03.01.2003]

"Are You Now, or Have You Ever Been, a Member of Diamondbag?"
[02.08.2003]

"There are some who call me...Tim"
[01.31.2003]

Body Language (or "Let Me Entertain You")
[01.10.2003]

The Best Laid Plans of Mice and Men
[11.08.2002]

"Neil Has Left the Building . . ."
[11.01.2002]

The Perfect Storm
[10.25.2002]

OU Still Sucks
[10.11.2002]

Jon Townsend, a.k.a., "The Killer"
[08.20.2002]

The Lost Weekend
[07.06.2002]

The Who at the Hollywood Bowl
[07.01.2002]

A Good Omen
[06.21.2002]

Excuse Me, Have You Seen the Sound Guy?
[06.13.2002]

It's the End of My Voice As I Know It (But I Feel Fine!)
[05.11.2002]

A Wee Bit o' the Willie
[03.17.2002]


WELL GARY IS TOO LAZY
to update the Web site copy, preferring instead to focus all his attention on our Facebook page -- but since we can't leave our site languishing completely, here's at least a brief blurb to let everyone know that our next gig is Saturday, July 27, at the beloved Barley House. Yeah, we probably won't actually start until 10 p.m., but you should probably show up at 9:30 like the poster says, just to ensure that you get a good seat. ("Good seat" in Diamondbag parlance means one as far from the stage as possible, of course.)
Hope to see you there!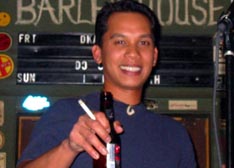 JAY RAGOJO: guitar and vocals
(2001 – 2007)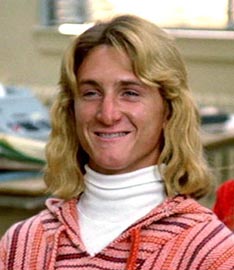 JEFF SPICOLI: learnin' about Cuba & havin' some food (1982 – present)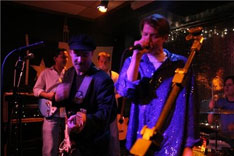 WE AMAZE EVEN OURSELVES!
Sure, if The Dallas Morning News were to compile a list of, say, the top 100 tribute bands in Dallas, we bet that most fans would admit the possibility that Diamondbag might make the cut. But to be featured as one of the five movers and shakers of the Dallas tribute band scene in a splashy Guide article leaves even us, well, a little verklempt. (Of course, if you're feeling crazy, you can shell out the mighty 50 cents at the newsstand and see the pictures too.) The Observer may have given us no love in their recent Music Awards, but at least the Morning News is smart enough to recognize real talent when they see it. To tell you the truth, we're just glad that they didn't say we suck.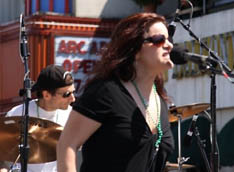 STEPHANI SWEPSTON: vocals
(2008 – present)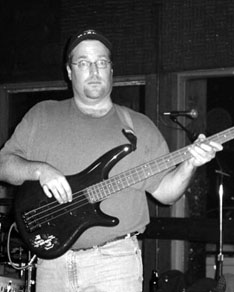 ERIC BYRO: bass guitar (2001 – 2007); guitar (2008 – present)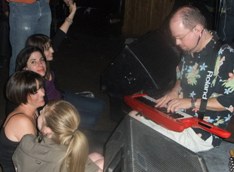 JOHN DIETRICH: webmaster
(2001 – 2007); keyboards, keytar and vocals (2008 – present)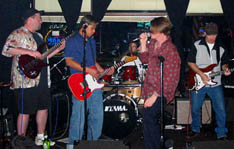 Diamondbag Classic Edition,
circa 2002

Diamondbag at 2009 Lakewoodstock
GUESS WHO EATS AT THE CARNEGIE DELI? NO ONE, APPARENTLY
Our previous poll posed the musical question, "Latkes, kishkas, or kreplach: Which will be the concession of choice on the big Neil/Barbra tour?" Of course, time reveals all, including the lameness of our own polls, since the big Neil / Barbra tour was as much a non-starter as a Mo Rocca quip at a Rotary Club meeting.
We'll try to do better in our new poll du jour, where we ask the non-musical question, "If a tree falls in the Arboretum, and 1,000 people are there to hear it, does Diamondbag still suck?"

Big Poll o' Fun #8: Texas/OU
[10.31.2004]

Big Poll o' Fun #7: Celebrity Deathmatch
[10.05.2004]

Big Poll o' Fun #6: Crystal Ball
[02.18.2004]

Big Poll o' Fun #5: Suck and Blow
[01.13.2004]

Big Poll o' Fun #4: Gary's Wife
[11.04.2003]

Big Poll o' Fun #3: Gary's Free Time
[08.30.2003]

Second Big Poll o' Fun: New Song Suggestions
[06.18.2003]

First Big Poll o' Fun: New "No Commitment" Name
[05.06.2003]

New FAQs posted in the Big Bag o' Mail!
[04.29.2003]


PLAID PANTS MAN!
Those of you who made the March 28 gig at the Lakewood know all about him—and now the rest of you can all see the greatness that is Plaid Pants Man by checking out the new pics in the Gallery. Let's just say you won't be disappointed.

The Amazing Plaid Pants Man, and other Anomalies of Nature
[03.28.03]

New video hot from Lincoln!
[11.01.02]