It's the End of My Voice As I Know It (But I Feel Fine!)
Saturday, May 11, 2002: The Barley House
I've played a lot of gigs in my time, and I have seen a lot of crazy shit. Of course, that's to be expected when you play in a band with Simon for 2 years. I can pretty much handle anything that happens at a show, but last Saturday's gig at the Barley House was bizarre even by my admittedly abnormal standards. To illustrate, let's list my five favorite Simon-esque Zen Pirate moments, shall we?
After I spent the afternoon at a doctor receiving that not-so-fun test that guys sometimes must go through, Simon announces to the crowd that I have spent the afternoon "with a fist up my ass." Amazingly, our future gigs are jam-packed with lesbians and homosexuals and our reputation as Dallas' only "gay" hard rock band is born.
Dave trashes his drums on-stage at the Basement after our first song because his kick-drum was sliding forward on the slippery stage. One of the falling cymbals snaps Simon's bass cord in two. We set the drums back up, play the rest of our set, and then Dave trashes his drums again during the finale. We are forever banned from the Basement by the irate sound man (as if we'd ever have gone back anyways). Of course, we are proclaimed heroes by the bar patrons, who proceed to buy us shot after shot. On our way back to Plano, Simon passes out with the upper half of his body hanging out of my Datsun B210 window all the way up Central Expressway. Amazingly, we are not pulled over.
The band travels to San Antonio to play at the infamous Tacoland (yes, it really exists). The ceilings are about 7 feet high, Bud and Lone Star are $1 a can, and we are hideously out of tune the entire set. Simon plays "Girls Suck" while standing on the bar, and then accidentally knocks over an entire case of beer. Shattered glass flies everywhere. The bartender starts moshing. Once again, we are Gods. We are offered free chicken by one of the bar patrons back at his house. We decline.
We're in New York City to play our biggest gig ever-the CMJ Music Festival. The CMJ is a national version of SXSW, and we are ready to rock. Our show is at the Danceteria, an ultra-famous bar where Madonna got her start. The Smiths also played their first-ever American show on the very stage we are playing on. Luckily, the Smiths are all tiny whiny Englishmen who stand still when they play, as the stage proves more than a bit unsteady. The Pirates were freaks on stage anyways, but add in the adrenalin of a big gig in the Big Apple, and let me assure you that danger was everywhere. The stage starts SWAYING as we play, so of course the band starts rockin' in unison (picture any late 80s hair-metal band video)-- which of course only makes matters worse. Luckily, our 30-minute showcase ends before the stage completely collapses. Once again, we are hailed as Lords of Rock and Roll-mostly by a fine assortment of NYU's finest call girls, who came to our show after partying with us earlier in the week at Jameson's Irish Pub. Did I mention how much I LOVE New York City??
Zen Pirates are opening for the Toadies at Trees on a Friday night. It's 1992, and the Toadies have about as many fans as Jar Jar Binks. When we show up to load in our gear, we find that the Toadies are already on-stage sound-checking. We are confused, as we are playing first and Trees does not have a very large stage. What is the point of sound-checking when you are simply going to have to tear you stuff back down? Ahhhhhhhh, we see-the Toadies expect us to set up our gear in front of theirs cause they're "headliners." We proceed to tell the Toadies to fuck off and tear down their gear, which they do. So we set up and sound-check in a very pissed-off manner, at which point The Toadies realize that we are better than they are. We then head to the Elm Street Bar, get wasted, and return to Trees to play a fantastic set. The entire crowd leaves when we're done, leaving the Toadies' Moms to buy their tape. We go back to the Elm Street Bar and get drunk again, while the Toadies go on to sell millions of records. That's life, I guess.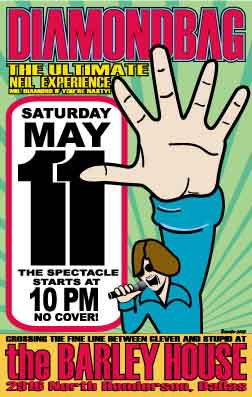 Now after all of these wonderful experiences, I can generally handle just about anything that happens at a gig. But never, ever, did I expect what happened during the second set at the Barley on May 11th. The madness started when Eric DISLOCATED HIS FINGER during "Brother Love" halfway through the second set. Amazingly, the crazy bastard finished the tune despite his obvious agony. We had Jon play something solo while Eric attempted to pop his finger back in place. He was successful and insisted that he was OK to play, so we returned to the stage for what seemed like an all-too-relevant version of R.E.M.'s "It's the End of the World As We Know It." Only one problem, though-my voice was already shot from 2 hours of pseudo-Neil and an excessively loud PA, and that song is way too fast and way too high for me to sing with a trashed throat. We simply destroyed the song- I mean we Sam-the-Butchered it. Or rather, I destroyed it. A thousand apologies, Mr. Stipe. At this point, I got the hell off stage to try something (anything) to get my voice back, while our good buddy Napo thankfully joined the band to play a nothing-to-do-with Neil version of "Sweet Transvestite." Somehow, it seemed just right. By now the rather large crowd was either confused, drunk, or apathetic; of course, that describes the band members as well. We returned with an encore of "Sweet Caroline" (proving that I can still sing Neil even when I can't talk) and Jon singing "Hey Jude," and then ran for the exits in shame. Yet somehow, by all accounts, everyone in the audience had a really great time. Alcohol is a wonderful thing, and we thank God for it.
The crazy hijinks of the second set managed to overshadow what was actually a damn fine first set. "Desiree" made its first appearance since our initial gig well over a year ago, and we even remembered it somehow. "Longfellow Serenade" had the yuppies up and dancing, which is something I never thought I'd see. The Barley was really packed for the show, which I have to admit warmed my heart a bit. (sniff sniff) After a brief intermission, the second set began with a couple of tunes from Jon (the crowd went nuts on Hank Williams' "Jambalaya") and then punkish, nasty versions of "America," "Forever In Blue Jeans," and "Cherry Cherry." Things were looking great, but it was at this inopportune moment when I realized my voice was completely shot. Additionally, my legs were cramping up like your intestines after a night of twelve Shiner Bocks and a 3 AM Taco Cabana Super Nacho plate. The night before our show, I went to see No Doubt in the 130-degree heat of the Bronco Bowl and managed to sweat away at least 10 pounds. Rather than rest on Saturday afternoon, I chose to drink heavily during the Mavs' loss and then adjourn to Jack's Pub for a couple hours of beach volleyball. Not a good call. So I spent the last 10 songs of the night with no voice and aching spasms of pain shooting up and down my calves, yet somehow still managed to have a great time. Sure, I wish we could have played better, but sometimes you just have to laugh and roll with it. Thanks to everyone who came out and got crazy with us, and a special "Dude you rock" to Eric and his magically re-attachable digits for a performance above and beyond the call of duty. We'll see all of you in June at the Boar's Nest, Dada, and the Gypsy Tea Room.
Set One
Cracklin' Rosie
Walk On Water
Kentucky Woman
Desiree
If You Know What I Mean
I Am . . . I Said
Rock Me Gently
Longfellow Serenade
Love On the Rocks
Sweet Caroline
Set Two
Couldn't Stand the Weather (Jon)
Jamabalya (Jon)
America
Forever In Blue Jeans
Solitary Man
Cherry Cherry
I'm a Believer
Heartlight
Girl You'll Be a Woman Soon
Holly Holy
Creep
You Don't Bring Me Flowers
Brother Love's Traveling Salvation Show
Piano Man (Jon)
It's the End of the World As We Know It (sort of)
Sweet Tranvestite (Mike)
Sweet Caroline
Hey Jude (Jon and Company)